Ford Teams With Azure for Hybrid Super Duty Trucks
By Joseph Lichterman, Automotive News
Posted by
AutoWeek
Friday, July 29, 2011 5:07:17 AM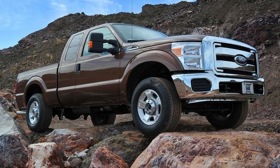 Ford
Motor Co., moving to expand its hybrid truck lineup, has signed a deal with Azure Dynamics Corp. to put plug-in hybrid powertrains in F-Series Super Duty trucks.
Azure will retrofit the
F-350
,
F-450
and F-550 trucks with its hybrid-electric drive trains. The F-550 will be the first to feature the technology, early in 2013, Azure said.
The electrified trucks will be aimed at fleet and commercial customers.
The F-Series Super Duty accounts for about half of the 100,000 commercial cab and chassis produced and sold annually in the United States.
The full story may be read here
.
It appears Ford is outdistancing the competition. I just may switch out my bowtie if they prove reliable for towing my 5er.
__________________
2000 Winnebago Ultimate Freedom USQ40JD
, ISC 8.3 Cummins 350, Spartan MM Chassis. USA IN 1SG retired;Good Sam Life member,FMCA."We the people are the rightful masters of both the Congress and the Courts - not to overthrow the Constitution but to overthrow men who pervert the Constitution. "Abraham Lincoln"