Project #4 - Insulating the Cabover
We're back, its been a good long while since I updated this thing, so I think I shall get started with Project #4, Insulating the cabover.
When I bought my KIT, it came with a plywood floor with 1/2" foam board sandwiched between it, the outer layer and the wood frame. Not very good at stopping heat and cold transfer through the cabover.
Well, after reading Sleepy's camper insulating thread, I decided to take my own spin on it.
First, I covered the bare plywood cabover floor with 1" thick reflective covered foam board. Then I taped off all the seams between the individual pieces with metalic ducting tape to reduce any cold air seepage between the boards.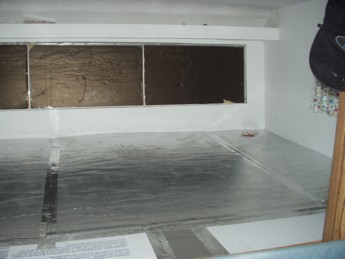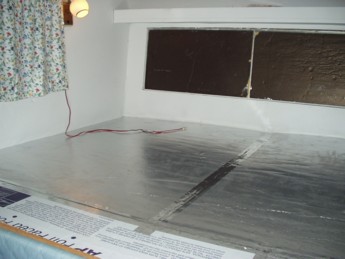 Then I put down a layer of household carpet padding over the top to create a spongy soft padding layer to reduce denting of the foamboard layer when one crawls around on the bed and their knees sink down.
Brand new foam, cost me $15 and I still have a bunch of it left over.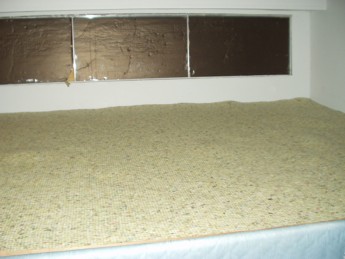 Finally, I cut a piece of remnant carpet I picked up from our local carpet warehouse store for $15. I made it an extra two inches wider than the measurements of the area, then took 1"x1" squares out of the corners so that I could fold the carpet up the wall 1". Then, using a big wallpaper putty knife (Great big thing) I pressed the carpet down till it had nice tight 90 degree seams along the walls and stapled it into place every 3-4". I probably could have skipped that last part, but I wanted to make certain the carpet didn't shift over time and would stay put when I ran the vacuum over it it was done.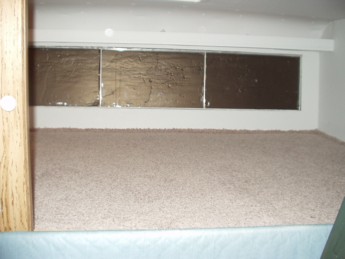 All in all, I have a fairly nice cozy cabover floor now, granted, its underneath the matress predominately, but it still is nicer than what it was when I first got the camper. At some point, I might add some base board along the top of the carpet just for kicks, but that's not on the top of the agenda.
This setup was tested back in February winter camping with INSAYN, and the difference in cold transferance from the floor was drastic. Granted, I still lose an arm and a leg because of the giant picture window, but now I don't have it coming up through the bed as much as I did before. Till I come up with a good way to slow the transference of cold through that front window (Even with the foam inserts seen above) I'll just use the backup method which is to toss the excess pillows up against the window (I keep around 6 spare pillows in the camper, they're ones that aren't flat, but aren't fluffy enough for me anymore, so they get used as spares for guests).
Check on back for another project, I've got tons to post!