As the title states thinking of remodeling my current slide dinette.
The cushions are showing wear and foam is breaking down. The seating has never been a comfortable place to sit for any length of time. Rebuilding with a more firm foam would likely help but the overall design is flawed.
The entire dinette sits on the 42"x80" slide. The entire dinette system could be removed with about 20 screws and 10 bolts that hold the seat belts. Leaving a 42x80 clean slate.
[/URL][/IMG]
I have seen a few posts on other sites where a RV sofa or two recliner sitting was used. Also wondering several RV dealers shows that very few RV's have comfortable seating in the class C market. Many are stapled 1x2 crap lumber and just slapped together.
Wondering around the internet I can purchase a complete dinette like this one with storage. There is a chance it might not be any better than my current system as far a function and design. Obviously it would be new foam and ultra leather.
http://shop4seats.com/rv-seating.htm...MMMaApDJ8P8HAQ
Sunday looks like their site is down for maintenance?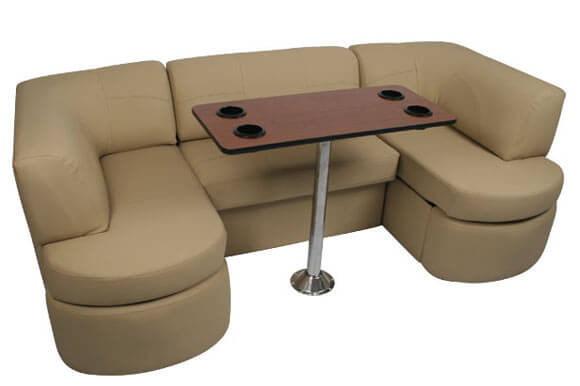 My other thought was two comfortable chairs with the existing table as a solution. Seat belts are not a concern as this seating would only be used while parked. I would save the existing dinette and it could be put back in place for future resale.
Anyone been there done that ?????