What level of disaster would you define a power outage?
Is it just a minor inconvenience, like a small bite of a mosquito bite on your thigh, or life-threatening danger, or something in between?
Anyway, unlike the devastating natural disasters that has been long discussed about, blackouts arenít relegated to specific regions the way earthquakes, hurricanes, and tornadoes areójust about everybody can experience one, especially now that extreme and unpredictable weather is pushing the limits of electrical grids.
A state from EIA shows that, Since they began collecting reliability data in 2013, U.S. electricity customers have consistently experienced average total power interruptions of about two hours (106 minutes to 118 minutes) per year when major events are excluded. In 2018, the situation got even worse, power outage duration for U.S. electricity customers averaged 5.8 hours per customer.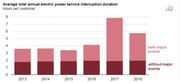 We all hate the feeling of our personal life being interrupted, especially when things got worse and the power outage last much longer than you think, it can really put a damper on your food supply by spoiling your refrigerated items.
So take a few precautionary measures preppers, they arenít expensive but can really do help a lot when SHTF.
Whether itís preventing food from spoiling, keeping medical devices running, or providing power for the devices you eagerly needed in the dark, phones, light, space heaters...Definitely worth every penny you spend on it.
Hence we proudly announced that we recently launched our newest portable power station.
BougeRV 1100Wh high-capacity portable charging station allows you to charge your devices anytime as a primary power supplier and your reliable backup power source.
Features
Quick dissipation
Aluminum-made shell ensures quick heat dissipation.

Longer Lifespan
Special design allows you to charge more than 1500 charge cycles, which means you get double the lifespan of other power stations in the market for the same price.
Fast Recharging
Built-in a MPPT technology enables efficient charge management. The power station can be recharged by the solar panel and USB-C PD 60W for 4.5-5.5 hrs. Can also be charged simultaneously via a 200W wall outlet and USB-C PD 60W, from 0 to 100% in 4.5 hours.
10 PORTS FOR ALL
Features 3*110V Pure Sine Wave AC Outlets,
1*USB PD 60W (Input/Output Supported),
1*USB QC3.0 ports,
2*USB-A ports,
2*DC ports,
1*12V car charging port
Strong Output
For the output, with a peak rated power of 2000W, you can run many electronics including:
~1150w Electric Grill for ~51min
~1120w Coffee Maker for ~52min
~1000w Microwave for ~60min
~900w Pressure cooker for ~66 min
~700w Ice Shaver for ~85min
~500w Blender for ~2 hours
~60w TV for ~16.5 hours
~45w Refrigerator for ~22 hours
~10w Camera for ~99 hours
~5w Light for~ 198 hours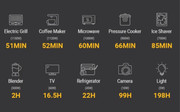 ​
*depending upon the actual situation.
In all, under emergency situations, you could have charging and small appliance operation during power outages or any other emergency situation by our power station.

12-months Warranty
With a 12-Months product warranty backed and Lifetime Technical Support, Iím quite sure this will help you to solve any product problems. Feel free to contact us If you have any.
Order Here